Biography / Artist Statement
is knowledge of art is mostly self-taught. His primary medium is oil. He calls his painting style "composite realism, a creative conceptual process that allows me to combine lighting, composition, design, and other elements to explore and create the art that expresses my vision."
Although he graduated from a business high school and was prepared to work as a bookkeeper/junior accountant, Clemente was fascinated by the old masters introduced to him there. After graduation, and a stint in the army, he accepted a position as an office bookkeeper, but his desire to learn more about art continues to grow. Encouraged by his older sister who made him aware of the commercial art field as a career, he began art classes at Brooklyn Community College where he considered pursuing a degree. Soon after,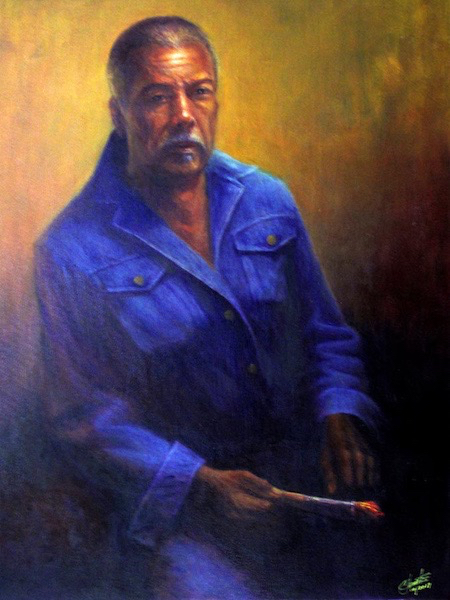 he was hired by an advertising agency. A few years later, he started his own business. He learned about the Art Students League of New York and began to attend the life drawing sessions there. He met contemporary artist and instructor, David Leffel, well known for his work in the classic old masters' style and began to study oil painting with him. Recognizing the importance of understanding the human body, he studied anatomy on his own from illustrated publications for artists.
A few years ago, Ettrick retired from his more than forty year business: an advertising design company, Ettrick Communications, where he serviced some of the largest national advertising agencies and corporate accounts. At home on Long Island, he is now painting and drawing in earnest, interested in sharing his work with like-minded people. His work has been displayed in various community exhibitions. To this day, he still attends the life drawing sessions at the League where he is now a life member.
"I have always been fascinated by artists who reveal mastery by painting the human figure. Very few have been able to find a way to paint figures with conviction. In my search for discovery on the subject, I realize that looking is not seeing, and what we see is subject to interpretation. There are things that we have to analyze in the abstract to make what we see appear real. When I paint, my thinking is about the effect of light on the subject, and by doing so, the subject emerges. By creating a light path, I can control the flow of the picture."
"What I hope to achieve in painting is to continue the search for the harmony of light, color, composition and design that will make my pictures work at every level."